Type: Helmet
Brand: Touratech
We made the probably most versatile multi-functional helmet even better!
Thanks to our extensive experience with the Aventuro Carbon helmet we were able to improve many details, to take an innovative approach and eventually to create a helmet that speaks for itself.
The entirely newly designed chin part and the new forehead ventilation are not only decorative design elements. They both provide better ventilation and are easy to handle – even with gloves. An ultimate luxury and a guarantee for stress-free riding in every situation. Due to a new, third shell size an even more precise fitting is possible as we're now able to offer the size 3XL. This helmet fits every head!

New features of the Aventuro Carbon2 at a glance:
New bigger shell in three sizes: XS-S, M-L, XL-3XL

New size 3XL

New design for better use with gloves

New peak for better air flow

Peak with adjust

New designed top ventilation

New design of the visor button

New Chin Interior (EPS + Plastic Part)

New Chin curtain (new attachment)

New strap with more thickness

New Front Chin Vent

New Emergency Straps

Safety:
Ultra hard carbon shell

Complies with ECE 2205 and DOT

Wide field of vision

Double D-ring closure

Pin-lock visor

Emergency Straps

Ergonomics:
Lightweight

Ergo Padding System

Easy to use

Convert without tools

Clever ventilation

Skin-friendly washable interior

Antiperspirant, anti-allergic

Coolmax lining
Others:
Integrated goggle strap guide

Intercom preparation

Camera holder

Accessories holder
Helmet shell:
The exclusive use of carbon fibre for the helmet shell allows the combination of maximum safety standards at lowest weight.
Weight: from 1280gr (+/-50gr)
The aerodynamically optimised helmet shape was developed to minimise lift and turbulence.
Field of vision:
The large panorama field of view offers best all-round visibility and thus actively increases safety. This also makes the Aventuro Carbon2 ideal for wearers of spectacles.
Ventilation:
Perfect ventilation via 6 adjustable air inlets and 4 air outlets. Their effect is reinforced by optimised air channels made of EPS foam.
The removable chin air protector and the off-road air inlet increase air supply during off-road travel.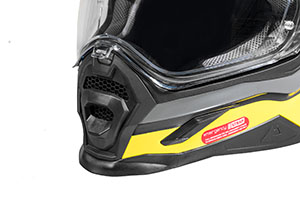 Inner lining:
Inner lining made of Coolmax™, replaceable and washable. 3-dimensional pre-shaped cheek pads made of Coolmax™ with Emergency Strap System.
Reflective zones on the underside of the pads increases visibility during poor weather and at night.
Ergo Padding System:
The "Ergo Padding System" enables optimal adjustment of the helmet to the individual head shape of the wearer using several foam pad strips.
Rubber edge:
Soft lower edge made of rubber. Formed outwards in the chin area to prevent injuries of the upper sternum and collarbone. The rear section features an extension to protect against dripping water.
Helmet shield:
The specially shaped helmet shield offers best protection against dirt or sun at all times without interfering with the aerodynamics of the helmet.
The correct size can be adjusted at any time via the extension with multiple settings developed especially for the Aventuro Carbon2.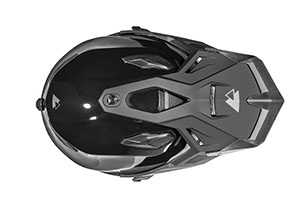 Visor:
The scratch-resistant coated, three-dimensionally cast visor is fitted with a recess for mounting the supplied Pinlock™ Iinner visor. This combination effectively prevents misting and provides a clear field of vision under all weather conditions.
Visor lock:
The SuperLock ensures a securely closed visor. A special anti-fog position allows an open gap, ideal for city traffic.
The fast shot lock allows changing the visor with only two clicks.
Fastener:
A double D-ring closure provides safety. The extra-long chin strap provides greater comfort as the fastener does not need to be opened every time the helmet is taken off, the strap simply needs to be pulled over the tip of the nose.
Conversion:
The Aventuro Carbon2 can be converted from one version to another in 2 minutes without the need for any tools. No matter whether with helmet shield or not, with enduro goggles or not.
Ready for intercom use:
Perfectly positioned recesses inside the Aventuro Carbon2 and sufficient space on the outer shell of the helmet allow comfortable mounting of all common communication systems on the market.

Holders and accessories:
Two side and one overhead holding fixtures allow individual mounting of accessories such as helmet cameras. Whereby the overhead holding fixture can be mounted within seconds without the need for using tools.
Two specially developed side covers allow quick and precise fitting of QuickStrap™ goggle straps. Included exclusively in the scope of delivery of the Touratech Aventuro Carbon2.
Special side covers of the visor provide minimal noise interference when using the Aventuro Carbon2 without a helmet shield, i.e. on motorways.
Transport pouch:
The protection and transport pouch for accessories and visors make storage child's play on the road and ensure permanent scratch-free visibility.
Certification:
The Aventuro Carbon2 is dual-certified, both according to ECE 22.05 as well as according to DOT.

Scope of delivery:
1. Helmet
a. premounted shield extension
b. premounted chin wind protection
c. visor with protective foil
2. 1 piece Pinlock inner visor
3. 1 piece overhead camera holding fixture
4. 1 pair QuickStrap holders
5. 1 pair side camera holders
6. 1 pair side covers for use without shield
7. 1 pack Ergo Padding System
8. Helmet pouch with Touratech logo
9. Visor / Accessory pouch with Touratech logo
10. Instructions for use and guarantee manual
Weight small outer shell (XS-S): 1280 g "On-road" + "Off-road" (1380 g. "Travel")
Weight medium outer shell (M-L): 1330 g "On-road" + "Off-road" (1430 g. "Travel")
Weight big outer shell (XL-3XL): 1380 g "On-road" + "Off-road" (1480 g "Travel")