Type: Modular Helmet
Brand: Touratech
Visually and in its function a real adventure helmet, by its comfort, a flip-up helmet: with the new Aventuro Mod, Touratech offers a perfect synthesis for demanding motorcycle travellers and presents the most versatile touring helmet on the market.
With the Aventuro Mod, discover finally a win-win helmet! It combines the great ventilation, the large field of view and the securing shield of an adventure helmet with the qualities of a flip-up helmet that is not liked only by people wearing glasses. The face is an important means of communication, particularly during a travel. Brief images can be quickly caught on the camera without needing to take the helmet down.
With Schuberth, the leading manufacturer of flip-up helmets, we found the best partner to create together what is probably the best and most comfortable modular helmet.
Modular system:
Thanks to interchangeable components, the Aventuro Mod can be adapted for any wanted function without needing to make as many compromises as an all-round helmet. The helmet can be quickly converted to face ideally any upcoming challenge.
Quick and tool-free mounting of the shield – adventure helmet with shield and visor

Large face opening and goggle strap holder to allow driving with enduro goggles

Can also be used as a "normal" flip-up helmet – classic touring helmet for fast motorway stages
Flip-up function:
Schuberth is the worldwide specialist for flip-up helmets. Schuberth helmets are quiet and stay functional for a long time and the production in Germany guarantees a great quality. Of course – we only work with the bests!
Thousand-fold proven flip-up system by Schuberth

Maximum comfort for people wearing glasses

The shield flips up together with the chin protector and comes automatically down again to the preset position

You don't need to shout at passers-by any more when you ask them for directions

You won't shoot poor photos any more because the viewfinder of your camera would not fit in the face opening of the helmet

Maximum safety after an accident – handling security for first aiders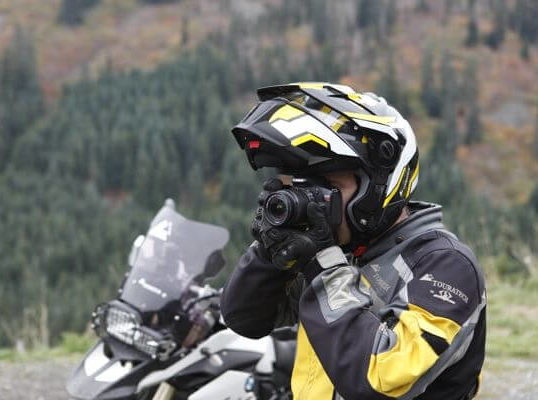 Safety:
With Schuberth, we chose wilful a partner that stands for high quality and manufactures thanks to its experience for decades the safest helmets on the market. For a helmet, active and passive safety are the biggest priority.
Made in EU (Germany)

Helmet shell made of special glass fibre laminate (developed by Schuberth)

Certified according to ECE 2205

Anti-fog and distortion-free visor fulfilling the European standards for class 1 optics

Reflective components (in the collar area too)

Finely adjustable ratchet closure with micro latching
Comfort and design:
The Aventuro Mod combines the competence of the helmet manufacturer from Magdeburg and the distinctive design of Touratech. Besides, Touratech did not only bring its long experience of travels, it also brought many parts for the new helmet. Therefore, the Aventuro Mod does not only look good, but also offers a comfort that is sometimes only detectable at the second glance.
Simple and tool-free mounting of the shield and covers if the shield has been taken off

Shield with memory function, adjustable in three positions and aerodynamically optimised in the wind channel

Washable filter in the area of the chin/mouth ventilation

Interior anti-fog screen

Integrated sun visor – stepless adjustable (fulfills European standards for class 1 optics)

Prepared for the Schuberth SRC system C3Pro

Inner fittings removable and washable made out of Coolmax material

Removable chin wind protection

Outstanding aerodynamics

Extra large air inlets

Variable ventilation options; improved ventilation

Very quiet thanks to an acoustically optimised, special construction
Sizes:
XS: head circumference: 52/53

S: head circumference: 54/55

M: head circumference: 56/57

L: head circumference: 58/59

XL: head circumference: 60/61

XXL: head circumference: 62/63

3XL: head circumference: 64/65
Scope of delivery:
Helmet with shield

Helmet pouch with Touratech logo

Instructions for use