Rynox Air GT Riding Gloves
Gloves! One of the bare essentials when riding a bike. A lot of times even when people do not wear a jacket or pants . Gloves are still worn. Maybe for a style statement but also in case of a fall it's the palm that is one of the 1st body parts to take impact. Also a good glove helps grip the throttle better. 
Ideally a way to check the fit is , obviously, a glove that fits your hand. Soooooo,  according to size. Next one, you wear the glove, check the fingertips, if the glove is too tight, check if the material is stretchable. Best way to find this is, to grip your wrist as if you were gripping the handle of your bike or if you have taken your bike a long or have a bike or scooty nearby you can use that. So when you grip the wrist \ handle the tips of the finger and gloves have to meet. Or if they already meet the material has to stretch on curling the fingers. There shouldn't be much pressure. Also you have to be comfortable in this process. Certain materials don't suit certain skin types so check that too. Know your purpose. 
Let's look at the Rynox Air GT.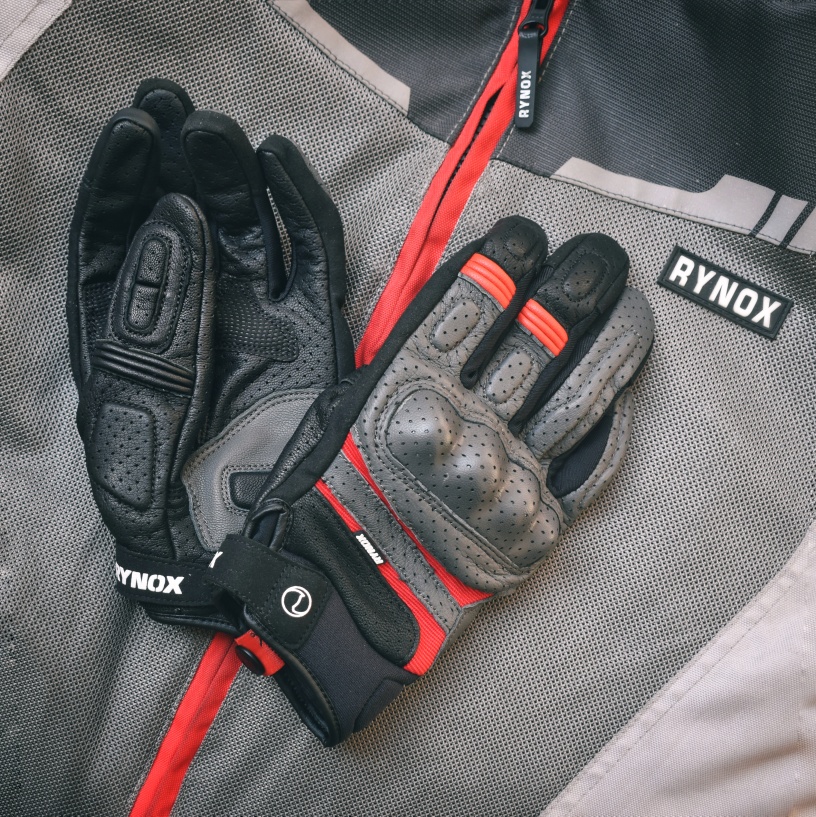 The Fit:-
Keeping fit in mind this is  one of THE most comfortable gloves I have ever tried. Pricing was not what I was expecting as the feel felt really ultra premium. The leather was not just stretchable but also soft and mostly didn't feel like I was wearing a glove. This is a short glove or cuff length glove. Can be worn for daily and long rides. One thing to remember is the Rynox glove is for people with longer thumbs. 
Material and Protection:-
The entire Rynox Air GT glove is CE certified to standard EN13594:2015. This keeps in check the safety standards. The knuckles have TPU protectors with HD foam. The Scaphoid Bone, Fingertips, Finger Joints all three have HD foam inserts. The chassis is made from premium perforated soft full-grain leather. As mentioned Accordion stretch panels on finger joints that flex with hand movements, this does not create any pressure on the movement of the fingers and feels absolutely comfortable. These gloves are short in cuff length with an adjustable girth. Also comes with TapfingerTips on the index finger and the thumb so that you can use your precious phone easily.  If you really want to get into details, these gloves have just above 25N newtons tear strength at the palm and 18 newtons at the back of the hand. Now this kind of comfort with this kind of force is remarkable. And yes the cost. I keep mentioning the cost as this is indeed low. These gloves have pre-curved fingers. What is that you may ask. Well , a pre-curved fingers construction means that the fingers surface is made to reflect the natural glove's position, which is usually an almost closed fist. Well I even got to learn about this today so yay!!! 
Rynox is keen to provide good quality projects at affordable cost as WE the Indian consumer is always looking for VFM and as we all know Biking is a very expensive hobby along with being risky. So protection is key without letting go of your body parts at a donation centre. 
If you liked this product head straight to the custom elements website to check this and many more gloves listed. 
Ride hard Ride Safe and Stay Alive. 
https://www.youtube.com/channel/UCCzUOfOFcffW1WZqbsCx0Cw