Motorcycling Events in India
"Passion is energy. Feel the power that comes from focusing on what excites you." As rightly said by Sir Anthony J D'Angelo, passion is a driving force we all feel once in a while and it majorly differs for different people. For some, passion can be a form of art, for some it can be capital gain, it can be as realistic as helping people. It is anything that makes you happy, satisfies you, helps you sleep at night, drives you to do better no matter what, it keeps you motivated.
So, for many, in fact, for more than one-fourth of Indians, motorbike riding is deep-rooted in their blood.
For a lot of people, it develops after they buy their very first bike from their first salary, or for some, it develops at a very young age by watching your father hopping on that 1950's scooter and driving off to work. You may believe it or not, India has a whole community of bikers that are well represented and for them their thrill and love for motorcycles is everything and their lives revolve around it. At the core of these communities lies a single united brotherhood. So, when so many people seem to share one single goal in life, it should be no surprise that they represent their enthusiasm on a big scale as well. That fondness has given birth to these motorcycling events in India and is attended by thousands of people
If you haven't already been to one of them, it's high time you do so–
An event for the brave hearts! Started in 2016 this event spans two months in a year and is filled with races and stunts. It is known for excitement, thrill, and stunts. It is open to all riders with Pulsar two-wheelers, to enjoy themselves for a spree of fun and frolic as long as they like, the event puts on a great show for the people, and the level of excitement skyrockets.
A fun-filled two days event which was started in the year 2014, and is held in Buddh International Circuit off is full of bike rides, food stalls, camping, and music with major emphasis on safe riding. The event campaigns for safe riding while simultaneously promoting fun and adventure, they receive people from all over the world who get to participate in all forms of activities related to bikes. It's a real deal and should not be missed!
HARLEY OWNERS GROUP RALLY (H.O.G)
 So, as the name suggests, this is an event for all proud owners of the ever-loved Harley Davidson bike and their families to express the love and appreciation they have for their freedom. They conduct a whole rally of Harley Davidson motorcycles and anybody with a Harley Davidson is welcome to join them as they have no ticket rule.
Started in 2013 this fun-filled event is held in Goa every year and is the biggest biking festival of India. It is a must-visit for every biking enthusiast, but the gates are open to anyone willing to attend. It is also a festival open to all brands, which makes it a hotspot for promotion and a lot of motorcycle brands put up stalls to display their new and existing models. The event also acts as a great launching pad for many brands, like Triumph launching Rocket 3 at the event which has the largest engine in a production model ever.
The event takes place for two consecutive days filled with bike rides, meet and greet with famous racers, great food stalls, live music, training sessions, and a whole lot of love among different biking communities. So it's a no-brainer for bikers.
A three-day fun fest in Goa for all Royal Enfield lovers, Rider Mania is a special little treat for people who are obsessed with Royal Enfield bikes, as this event invites a lot of people from all over the world to associate with the brand.
If you are looking for an event filled with fun, food, adventure, great music, and biking thrills from all over the place this event has you covered.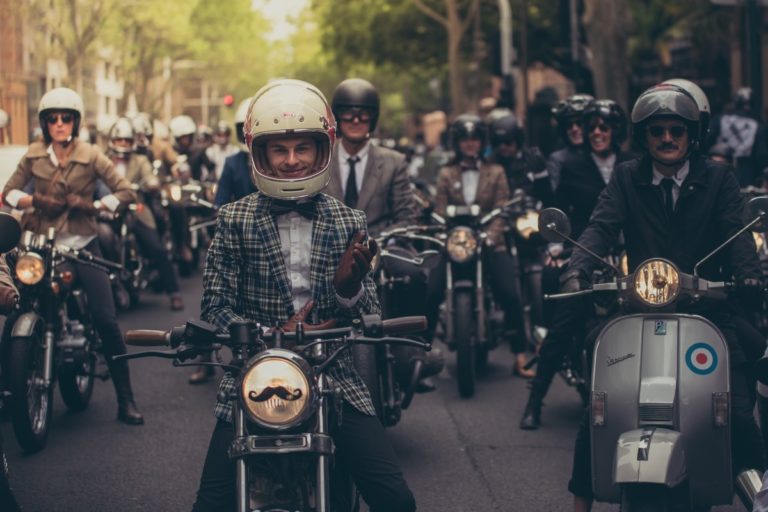 DGR (Distinguished Gentleman's Ride)
DGR is Organized by Triumph Motorcycles across the world on the last Sunday of Sept. The whole ride is to create an awareness for men's prostate cancer. The ride mostly consists of classic motorcycles or scooters where each participant has to look Dab. In India for eg each showroom organizes a ride every year for their customers.
Burn Fest takes place on the outskirts of Mumbai. mostly in a place by the name of Vasai. It is like IBW but is a smaller edition of it. Here loads of bikers meet up and different brands display their products from Bikes to riding gears. Also Riding groups have the option of getting their own stand and displaying their super bikes. There are multiple competitions like best sounding exhaust.
A biking event commonly organised in Mumbai by KTM, calls for all owners of RC 200 and 200 Duke for an exciting day filled with fun races, and better understanding the functionality of their bikes. This day is popularly known as Orange Day and is filled with good food, adventurous ambience and music where all bike lovers gather and discuss their greatest passion with a free track to race on.
Motorcycle events in India are fair to celebrate life and brotherhood, with a lot of fun, food, entertainment, and intellect. These events often welcome well-known celebrities from the biking industry and it is always an honor to witness and share the intellect of such great minds. Hence, never miss an opportunity to attend one of these events as it will be a great experience.
Also special mention to biking communities such as  IMGR ( Indian Motorcycle Riding Group) and North East Riders Meet (NERM) , some of the upcoming biking communities in India that are expanding at a fast pace and we can't wait to know more about them.