(Image courtesy of hipwallpaper.com)
Ride the best motorcycle you can today. All other things can wait till tomorrow. 
A few days ago, my stingy uncle came home to visit. Being a stingy man, he did not take a taxi from the train station but called up my father and had him pick him up instead. When he arrived home, he explained that he did not get any sweets for us as they have chemicals in them. He also insisted that my mother prepare fish and not chicken as farm chicken have too many steroids and antibiotics fed to them.
When we sat down to talk, he asked me whether I was a doctor or an engineer. I told him I am a freelancer. He sneered and told me his son was a software engineer who has settled in the United States.
During the course of the conversation, he noticed my r15 parked outside and asked me how much it cost. When I told him it cost 1,35,000 he said: "Arrey….why pay so much for a fancy bike? You could have bought a Splendor no….aaram gaadi…I used to have one". I ignored him. He continued, "What's the mileage? 65?". I told him, "No uncle, I get 40". He was shocked. "Just 40? Why, you could have bought a Splendor which gives 65 and saved so much money on petrol and service bill! Just 800 rupees petrol I used to put per month….".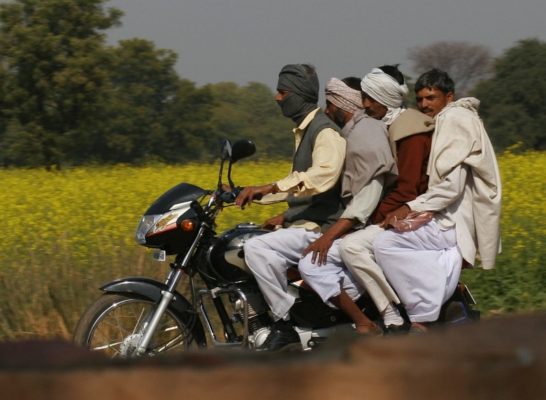 (Image courtesy: localriders.com )
You don't need a great bike to do this!
Sound familiar? Well, my uncle is a commuter and represents 99% of the people who ride bikes in India. People who want an inexpensive way to commute and take great pains to save as much money as possible doing so.
They buy the most "Value For Money" motorcycle which offers "Great Mileage". Their motorcycles are hardly ever maintained and serviced on time and they use the few hundred rupees they saved by doing that to buy a gold coin for Diwali. Wah, well done!
I am a rider. I don't settle for the most value for money bike, but I work hard and make enough money so that I can buy the bike that I want. I buy the best bike I can which gives me the riding experience I want. I don't have any gold coins because I spend thousands of rupees on tools, riding gear, performance parts, racing schools and petrol.
I'm an idiot to most people because I spend a month's salary on a helmet and the next month's salary on importing a riding jacket from the USA.
This rider had to work hard to buy that Ducati and riding gear!
I am a freelancer so that I can take off whenever I want to a place with good roads and ride all day. It's ok if I don't earn as much as a doctor or an engineer. I spend my free time practising braking, acceleration and slow speed control rather getting drunk at parties or watching TV. I work out not to attract women but to be able to ride longer and harder in the ghats. Why do I do all this? It's because I love riding motorcycles.
Riding my motorcycle to the limit is the ultimate thrill and that's what I live for. All the other things are just things I put up with until I can ride again. When I live, I live to the fullest on my motorcycle. When I am old and can't ride anymore, I'll relive the memories of the miles I rode.
When I die, I'll die happily knowing I travelled the world, had fun and was always happy. That's why I ride – It's my pursuit of happiness.