Always Wear Protection
Well these three words are something to always keep in mind, while riding or ………… You get the point 
Lets just say, beside being safe it also gives you that added confidence and keeps away most of the worries from a tragic incident. In this way you can perform better. And take things to the next level. Yes, that is why it is important. 
What were you thinking? 
Let's see the different ways you can protect your bike. What else was I talking about? Dirty Mind!!!
Different bikes have similar areas to be protected but different types of guards. Consider Faired or Super Sports or Semi Faired. They have some things called frame sliders. This is supposed to protect the fairing in case of a fall. 
Now these can also be put on non faired or naked street bikes. When it comes to adventure bikes you get bars that go around the engine to protect it. From personally using a big heavy ADV and dropping it a couple of times. It has been a big life saver for me and the bike. All I had to do is pick the bike and continue the ride. Yes they are that good. I mean taking the weight of 200+ kgs. and the momentum of the fall, these guards are something special. 
You could call this as God's gift to the biking world.
Speaking of protecting the engine, as an added protection there is a cover that goes on the engine casing. This protects the outer shell for damage even wear and tear. Again been there tried and tested. I know you must me thinking lousy rider keeps dropping the bike.  Well protection gives you that ease to be a bit lousy and may be push the bike a little bit more.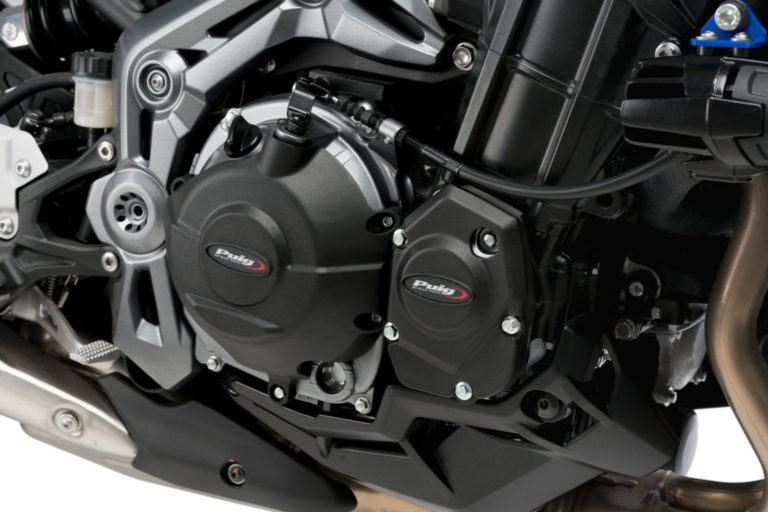 This is icing on the cake. If we are still looking at the sides. Adventure bikes also get tank guards that fit above the engine bar guards. This would make a complete side protection. When it comes to big advs , everything is big. Size, Weight, even the cost of parts. so the more you can save from damage the less chance for big money being spent on repairs. This leading to keeping the rider at ease and focus on the ride rather than worrying about his/her bike. 
Now. since we covered the obvious. Let us start from the front of the bike. What you see 1st are the headlamps. Some bikes you do get headlamp protectors. A place like India, where things quite often fly off the road this would be handy. From insects to small stones flying off tyres of trucks, to yes even birds. This is helpful specially when doing off road. This comes very very very handy, because the new ADVs the advancement in technology and the level of sophistication the headlamps have, it is almost like kidney becho to replace the unit. 
Looks built to go through an apocalypse. Next going a but down you can save the forks by getting fork protectors. The Fork is very under-rated, but if there is a fork seal leak you are stranded and this may happen out of nowhere. the bike is almost useless to ride. Speaking of suspension. There are open cartridge and closed cartridge suspension. Do let us know if you want to read about it, shall have a whole write up on it. 
Small pieces saving from big impacts. And if you look behind this picture you can see the radiator guard. We have made an entire video on this and its importance. Save the radiator, Stay cool. ride better. link of the video is mentioned. 
Do check it out. https://www.youtube.com/watch?v=mg0xqtnhjqI&t=34s 
Now just below the radiator you can put a sump plate to protect the base of your bike. As we all know our speed breakers are not standardised. So you never know when you hear a kachink sound from the base. These sump guards for the ADVs are so good if Capt America has to use it as a shield in Infinity War we wouldn't get End Game. Tyres are shoes, this is like cups worn by rugby players. Protects the jewels of the bike. 
We all know how important the base is. Moving straight up. You get knuckle guards. Two different designs one for adventure bikes and even available for Supersports. Barkbusters protect your precious levers if at all you have a fall, also protects your palm and fingers from cold winds on a chilly morning.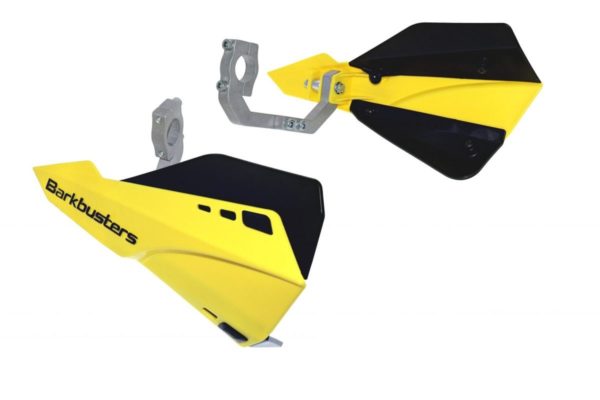 Talk about variety. The Puig protector protects incase of a drop. wont be much use in a cold day. 
Moving further back you get tank pads and tank grips. Tank pads sit in the rear centre of the tank and protect from scratches from a belt or zip of pant or jacket. This area usually gets scratched and looks pretty bad. If you are not a fan of tank pad, PPF can be another choice. 
Tank grip as the name suggests helps to grip the tank but also helps as sometimes some riders wear external knee pads that end scratching the tank if there are no side grips. 
Moving further on you get swing arm protectors. Which obviously protects your swing arm. This is mostly incase of a fall, and replacing a swing arm can be quite expensive. Also do not mistake Swing arm protectors for spools. Spools are for mounting a paddock. It is not meant for taking impact. 
Moving up  in the same line you get a saddle stays that beside being a mount for the saddle bags or side panniers, also protects your bags in case you have a high mounted exhaust or protects your exhaust in case of a fall. It's kind of like a multipurpose fitment. I have dropped my bikes a couple of times, and trust me this is a life saver. My precious arrow is still with me thanks to the saddle stays despite multiple falls. 
Some small things to consider are rear shock protectors. In a place like where you do not need to go off-road for mud, much, and more of such thing to fly off the tyre and hit the suspension, this is a big blessing. 
Similarly a front mudguard extender to prevent extra muck or stones from flying off to the radiator. 
Well if you want to enjoy a carefree ride and take it to different levels. Protection is a must. 
Head to our website and check what is available for your love. If we have missed out on anything. Do mention it to us. We would like to add it too. 
And always Remember. Ride hard, Ride safe.