Soft Luggage vs Hard Luggage. What's Right For You?
When it comes to packing for a motorcycle trip, one of the most important decisions is choosing the right luggage type for the journey between soft and hard luggage. In this article, we will examine the advantages and disadvantages of soft and hard luggage for motorcycle trips to help riders make an informed decision. First, we will define the two types of luggage and provide an overview of their characteristics and functionality.  We will then dive into top brands that should be on your wishlist.
What's The Difference Between Soft and Hard Luggage?
Soft luggage is made of fabric or leather and is designed to be flexible, while hard luggage is typically made of plastic or aluminium and provides more rigid structure. Soft luggage is often preferred by riders who prioritise flexibility and versatility, while hard luggage is ideal for those who value durability and protection. Soft luggage is also typically less expensive and easier to install on the motorcycle, while hard luggage can be more secure and offer additional storage capacity. However, hard luggage can also be heavier and more expensive than soft luggage.
When it comes to deciding between soft and hard baggage for your motorbike, it all boils down to your own needs and tastes. Our experienced riders prefer a mix of both,with a hard case top box and soft luggage saddlebags for their bikes. These are some of the benefits and drawbacks of each type:
Benefits of Soft Luggage:
Lightweight and simple to use
It is adaptable and may be enlarged to accommodate more objects.
It is frequently less costly than hard luggage.
It is simple to remove the motorcycle.
Easily collapsed and rolled up.
Disadvantages of Soft Luggage:
Not as safe as hard baggage and may be easier to steal.
With time, they may become less durable and prone to wear and tear.
In the case of an accident, your valuables may not be as well protected.
Generally, less water proof than hard luggage.
Many models often require additional harness straps.
Benefits of Hard Luggage:
Provides additional protection for your items in the case of a collision.
Less prone to theft and more secure
The top box doubles up as a backrest for the pillion.
Hard luggage is far more durable and so it lasts longer.
Locking mechanisms are frequently included to keep your valuables safe.
Disadvantages of Hard Luggage:
Heavier and trickier to manage especially in tight traffic.
Hard luggage is less flexible and cannot be extended as readily as soft luggage.
Hard luggage is pricier.
Removal from the motorbike may be more challenging.
Requires a special frame to affix on the bike.

Top 2 Brands You Should Consider Before Buying Your Luggage.
When talking about luggage for motorcycles, SW Motech is a pioneer at crafting both, soft as well as hard luggage. They have model specific luggage to fit your motorcycle perfectly. They have a wide range of models, we've listed out just a few of the best for you.
The Blaze bike saddlebags by SW Motech are considered one of the best sets for riders looking for a sporty look. The Blaze gives you 14 litres of storage on each side which is expandable up to 21 litres which in total gives you a whopping 42 litres of storage. Both panniers are equipped with SW Motech's revolutionary Quick Lock technology that make them ultra secure. The high grade 1680D Ballistic Nylon makes the bag weather resistant and worth every single penny. If you fancy the Blaze, you can pick yours up from Custom Elements website.
2. TraX ADV Pannier and Top Cases for Bikes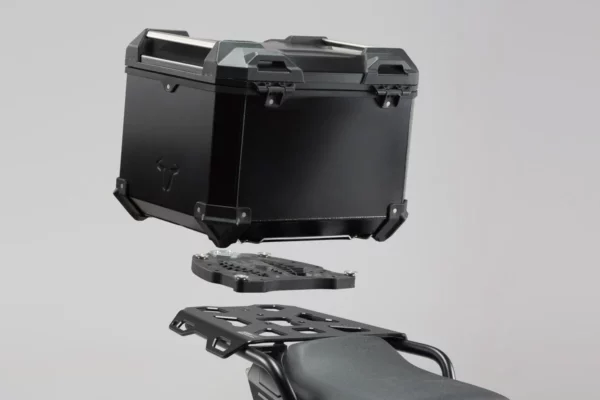 The TraX ADV panniers and top boxes for bikes are probably one of the most durable sets you can find out there with their 1.5mm thick shell and SW Motech's revolutionary rivetless technology. It comes in two volumes, 37 and 45 litres. In our experience, the 37 litre one is more than sufficient. However, if you love to travel with your laptop or camping gear, then you might want to consider getting the larger 45 litre model. You can pick up two colours black and silver and are sold for ₹37,600 for each pannier and ₹37,000 for the top case.
Shad top cases can be an excellent example of luggage that can be options for riders who value durability and aesthetics at a very affordable price. Shad has 4 top case models to pick from namely; Sh29, Sh39, Sh42 and the Shad Sh46. The enormous shad SH46 can easily fit 2 full face helmets without a hassle. The company even has a pannier set that you can pick from, SH23 which is 23 litres in volume.
Shad has priced its products extremely competitively, starting at Rs. 5,500 for the Sh29 and leading up to Rs.12,999 for the top-of-the-line Sh46.  While a set of panniers will cost you Rs.16,000
Finally, the decision between soft and hard baggage is determined by your own demands and tastes. Hard baggage may be the best option if you value durability and security. Soft baggage, on the other hand, may be a better option if you value flexibility and simplicity of usage. Consider your budget, the quantity of storage space you require, and how frequently you want to remove and handle the luggage. You can check out more about motorcycle luggage here.
How to Buy Top Cases and Panniers for Your Motorcycle on Custom Elements?
Planning on increasing your motorcycle's luggage capacity? Look no further! On custom Elements, we've got all your motorcycle requirements covered. You can find a wide range  of hard and soft luggage on our webstore. Ranging from some of the best manufacturers like SW Motech to Shad. There are a few search filters on the website that you can use to zero in on a specific model.  Once you find a model that you fancy, continue to the check-out page. Using Snapmint Easy EMI you may avail offers and discounts.