Helmet is the most important component among protective gear for a rider. The primary purpose of a motorcycle helmet is to protect a rider's head from a major injury in case of a crash, along with protection against injuries. Good quality helmets provide features such as additional ventilation ducts, UV protection visors and bluetooth compatibility.
While buying a motorcycle helmet, never compromise on its quality and especially on the certification. Helmets are certified with ECE, DOT and ISI certification. But because ISI certified helmets have been made compulsory in India. It's very difficult to find the right one. But no worries, we've got you covered.
Following is the best-selling range of ISI certified helmets available in India
Best ISI Certified helmets under Rs.5,000
SMK Stellar is a full face motorcycle helmet, made using high-quality material and dual-shell design for maximum safety and comfort. It comes in various aggressive designs and colours to choose from. A perfect light weight and superior fit gives riders great comfort even during the longest of rides.
This helmet incorporates an extra wide UV Replaceable visor which gives the rider a full vision of the road. It comes with top air vents and hot air exhaust at the back which provides maximum comfort throughout the ride.
The best-selling designs of this models are SMK Stellar Samurai, Stellar Animal and Stage priced at Rs.4800
LS2 FF352 helmets come with high level protection and great designs. This new range of LS2 helmets is molded in HPTT (High Pressure Thermoplastic Technology), with a combination of ABS (Acrylonitrile Butadiene Styrene) making it very light weight. It comes with three shells, breath deflector, class A visor and quick release strap system. The helmet is perfect for daily commuting and long rides.
Popular ones among these are LS2 FF352 Chaser, Fly Demon and Kascal priced at Rs.4750.
With the XPOD, it's not just about safety. The helmets are equipped with features to enhance the experience of riding and making it truly premium for riders.
XPOD blistering comes with aerodynamic design which allows it to cut through the air. The multi density EPS system allows greater protection and impact absorption. It also has provision to add a Bluetooth headset so that you stay connected with your rider buddies throughout journey. This helmet is priced at Rs. 3139
Next in line is the helmet which comes from the premium range of Vega helmets, AXOR APEX.
AXOR APEX is the new sport touring helmet designed with maximum stability and aerodynamic performance. It interprets an internal sun visor, multiple air vents for maximum air flow and Double D Ring for secure fit.
To safeguard the head, the EPS liner of a helmet is designed to fit the head perfectly to absorb the energies of an impact and avoid penetration. This helmet is also bluetooth compatible.
The fast-selling graphics of this model are Axor Venomous, XBHP, Seadevil and Apex Hunter price starting from Rs. 4694.
Best ISI Certified helmets under Rs.10,000
MT TARGO
If being stylish without compromising on the safety is what you're looking for? Then, MT Targo is the best choice to go for.
MT Targo helmets are made from high impact molded polycarbonate shell for greater protection. The best-in-class high quality dual EPS liner makes it impact absorbent. The interior of the helmet is made of hypo allergenic fabric that absorbs and keeps the rider sweat proof through the ride. It also comes with Double D Ring for secure fit.
Popular ones among riders are MT Targo Viper, Frog and Joker priced at Rs. 7800
    2. MT BLADE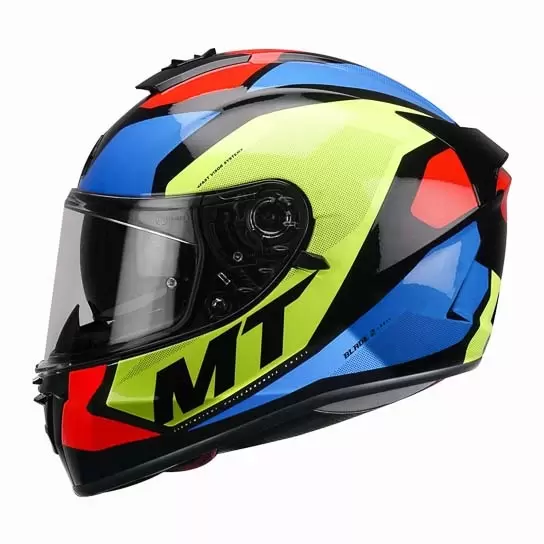 Stunning design, great safety and packed with best features, that's what MT Blade helmet offers the rider.
MT Blade helmet is made up of High Impact Resistant Polymer (HIRP), which improves impact resistance. It incorporates dual density EPS liner for better impact absorbtion. The helmet comes in aerodynamic sleek design and integrated split wing spoilers. Ventilation system is designed for maximum air flow keeping the rider comfortable.
Speaker pockets available for installation of bluetooth intercom. MT Blade 2SV Finish line, 2SV Trick and 2SV Aura are great designs to choose from.
SMK TITAN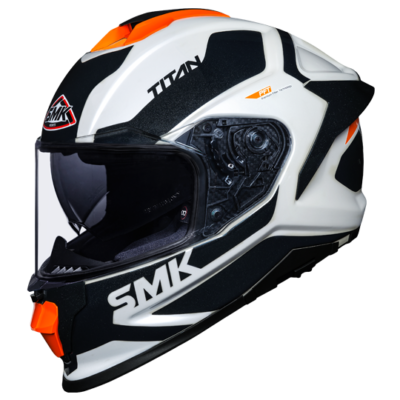 SMK Titan is a sport touring full face motorcycle helmet, made of abrasion resistant PFT fiber composite shell making it very lightweight. The helmet comes with aggressive styling design and great features along with safety.
SMK Titan helmet is equipped with an extra wide pinlock ready visor for better road visibility in foggy or any extreme weather conditions.
SMK Titan Arok, Titan Firefly, Slick and Unicolour are best choices to go for.
Best ISI Certified helmets under Rs.15,000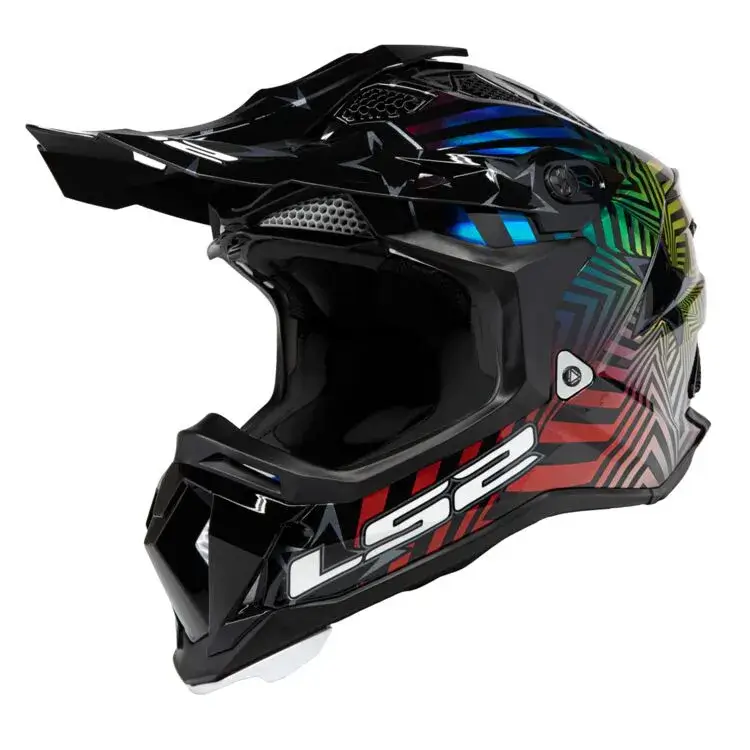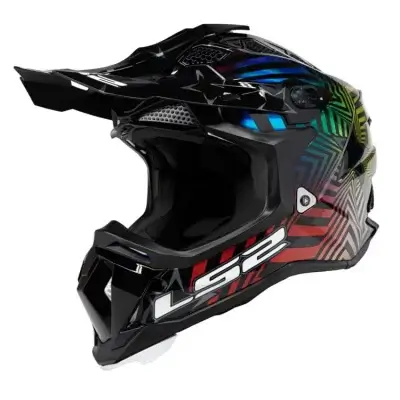 LS2 MX700 Subverter, The new motocross helmet perfect for off road riders. The helmet is made with ultra-light KPA and provides great impact protection.
To ensure great protection to rider's head, the helmet comes with multi density EPS liner, reinforced chin strap and double D ring for more secure fit. This helmet guarantees maximum ventilation with channelled EPS, top air vents and exhaust ports.
LS2 MX700 Gammax, Subverter cargo and Super collider Holo Burst are best sellers among these priced at Rs. 12500.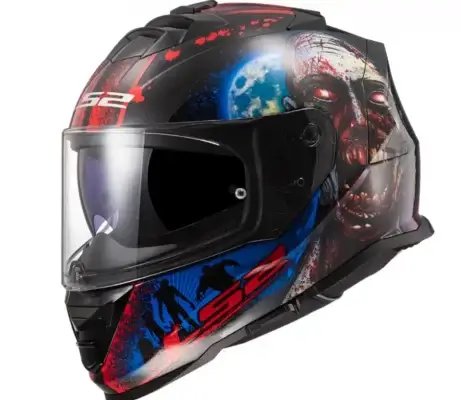 LS2 FF800, the popular full face motorcycle helmet from LS2 offers performance and features at best prices in India. The helmet interior is made up of hypo allergenic fabric and laser cut foam for great comfort. The configuration of EPS Liner in the helmet makes sure it fits the head shape perfectly.
FF800 helmet features a dynamic flow ventilation. It has fully adjustable in take ports and vents to keep the rider cool and comfortable.
LS2 FF800 Storm Commando, Storm Heart Brain and Storm Drop are new models worth investing in.