We all know the term ATGATT – All the Gear all the time, a rule followed by most bikers in India. It's protection for you as a rider irrespective of whether you're an experienced rider or just a beginner. Safety gears are a very important factor in your whole riding experience.
Now riding gear is an investment, you have international brands & Indian brands that provide great quality, protection & comfort.
Tarmac, a one such affordable Indian brand gives you a complete gear set from riding jackets, gloves, pants & boots. Whether adventure, touring these gears push the boundaries of product design with no compromise on safety and comfort.
Whether you're an experienced rider or a new entry into the world of motorcycles, Tarmac Riding Gears have got your covered.
So, let's take a look at the range of products you could choose from in Tarmac Riding Gear.
Tarmac One III Riding Jacket:
The chest protection present on the Tarmac Corsa jacket

are now standard on the redesigned 2021

TARMAC ONE III jacket. It is the ideal jacket for an adventurer because it features two layers of 100 percent waterproof lining and an additional thermal liner for further comfort. It is even harder to resist now that level 2 armour for the spine and upgraded level 2 armor for the shoulders, elbows, and back have all received CE certification.

Price: Rs. 7,499 – Rs. 8,099
Colors Available: Black, Camo, Blue, Red Orange
Detachable Liners: Waterproof Liner, Thermal Liner
Certification:

CE Level 2 for Spine, Shoulders, Elbows & Back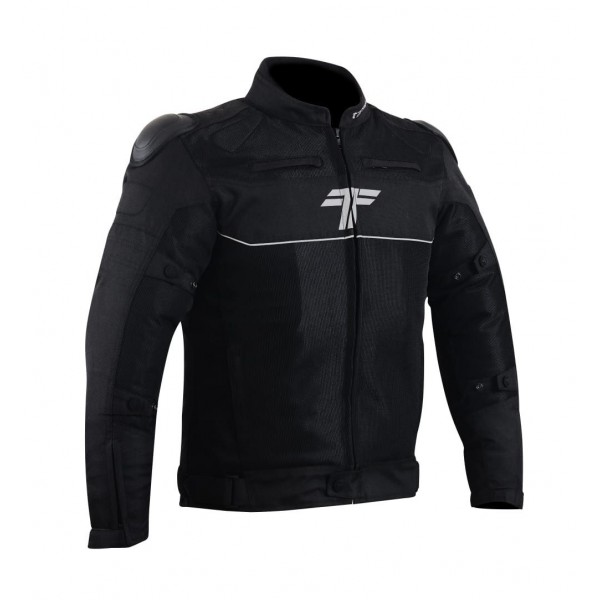 Tarmac Corsa Level 2 Riding Jacket:
This jacket is similar to the Tarmac One III with a significant feature of having a racing hump. Standard spine and chest protection are CE-certified level-II armour.

Price: Rs. 8,999
Colors Available: Black White Red, Black White Fluorescent Yellow
Detachable Liners: Waterproof Liner, Thermal Liner
Certification:

CE Level 2 for Spine, Shoulders, Elbows & Back
Tarmac Tex Riding Gloves
These gloves are lightweight & very comfortable. For an entry level biker these are a good start to getting used to wearing riding gloves. A complete all textile abrasion resistant glove for everyday rides. Made from Amara fabric…What's that you ask? Well Amara is a microfiber suede leather fabric which provides superior abrasion resistance. An affordable choice for any rider. This glove also comes with Touch Material Tap Finger Tip at Index finger and Thumb for easy of mobile usage without removing gloves.

Price: Rs. 1499
Colors Available:

Black, Fluorescent Green, Orange, Red, Blue
Tarmac Rapid Riding Gloves
If full gauntlet riding gloves is your vibe, then you're going to love the Tarmac Rapid Gloves, a new addition to their line-up of riding gloves. A riding glove superior to the Storm Gloves & far more stylish and better protection. Can be used for both track & touring.

Price: Rs. 2,999 – Rs.3,499
Colors Available:

Red, Black, Fluorescent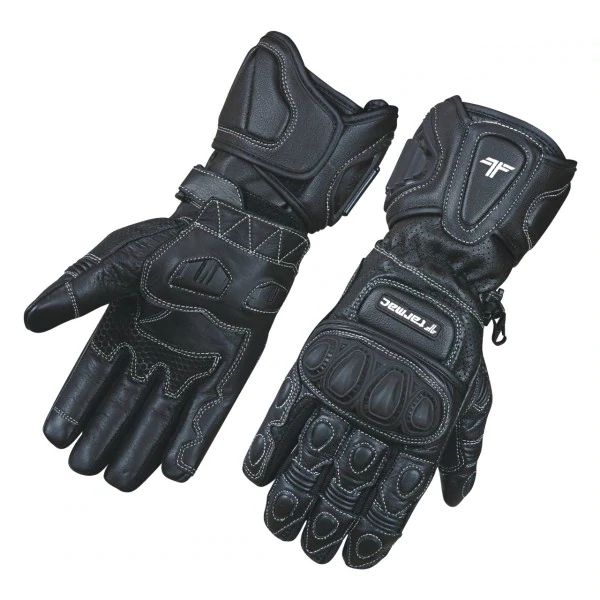 Tarmac Vento II Riding Gloves
An upgraded version of the wildly famous Tarmac Vento gloves, are ideal for casual touring or street riding. With the newly incorporated touchscreen friendly feature, you can easily use your mobile phones without having to remove the gloves each time.

Price:

Rs. 1,999
Tarmac has a series of riding boots, more of which are meant for adventure or touring rides. All boots provide you with a similar level of great protection and comfort. So, it really boils down to your preferred look, style and also what's suits your bike.
Tarmac Adventure Pro Tall Riding Boots:
If you are headed for an adventure then these are your go-to boots. These riding boots have a leather exterior and a waterproof/breathable lining. A solid construction of these boots' levels up your protection.

Price: Rs. 11,999
Available Colors: Black & Brown
Tarmac Blade Riding Short Boots:
Introducing the new TARMAC BLADE II boots. This boot is a step up from the Tarmac Blade boot and is ideal for your daily commute. Going anywhere with this boot will surprise you, as it provides greater protection and great looks.

Price: 9,499
Available Colors:

Black, Fluorescent Yellow, Red Blue




Tarmac Blade 2 Black Riding Boots

 

Tarmac Speed Riding Boots
These are a step above Tarmac Tour Boots with a sportier look. These are water-resistant riding boots. For an adventure ride or for tour these are good options.

Price: Rs. 9,499
Available Colors: Black, Fluorescent Yellow, White Red Blue

Tarmac Speed Black White Red Blue Riding Boots
Tarmac Drift Level II Riding Pant:
Tarmac Drift Pants were created because we saw a need for a low-cost riding pant that still served its purpose. These super light slim fitting pants offer removable knee and hip protection, and the detachable dual layered waterproof liner allows you to wear them in any season. The Tarmac Drift II Level 2 Black Riding Pants feature removable level 2 SAFE TECH protection on the knee and hip.Price:

Rs. 4,499
Tarmac Nomad 2 Riding Pant:
Tarmac Nomad 2 Pants are designed with detachable thermal and waterproof liners. Tarmac has always tried to include the most, however possible in each product. It is called Nomad because the word means "a wanderer". It's great for touring, weekend ride or even on the track.Price:

Rs. 6,999
So, there you have it a complete riding gear with Tarmac. Well, it's not entirely complete without a helmet of course. So do check out the range of ISI Certified helmets available with us here: https://www.customelements.in/product-category/helmets/
Ride Safe!