Riding Boots may be the 2nd last thing on a rider's mind. But one of the most essential parts of a Riding Gear. Not only protects your leg and foot but also saves you from destroying those expensive Adidas. When it comes to shoes and its comfort I find it very rare that someone will compromise so be careful what you are buying. You have ankle high shoes that are the basic need to give your feet and at least your ankles have some support from a twist incase of a fall. Anything below ankle support is technically useless. Then we have half length and full length. The riding boots have a hard material at the toe tips and especially an extra layer on the left fat toe since gear shift from there and the extra material usually prevents the shoes from wearing out in that section. Depending on the type or design or color scheme can also be a style statement. But remember there are a variety and loads of functionality for different types of boots. 
Let's talk about the length of boots.
You get ankle rise boots that should be the bare basics.
Half size and full size. 
Ideally you could use ankle high and half length boots for daily and touring. Though full length can be used too.
But if you are doing off-road or Track day. Full length is an absolute must as in case of offroad it would require that much support. 
When it comes to style you have boots that look like your daily sneaker to those full leather ones that you could wear on classics or cruisers to look more formal. 
Soooooooooo
Let's Start with Ankle high boots. These shoes have one of the nicest varieties especially when it comes to looks.  
If you're a person who likes more casual looking shoes but have all the needed protection you can look at, Shima Rebel Waterproof riding boots. These look like your daily sneakers that you can party around with and save your leg if need be. Very comfortable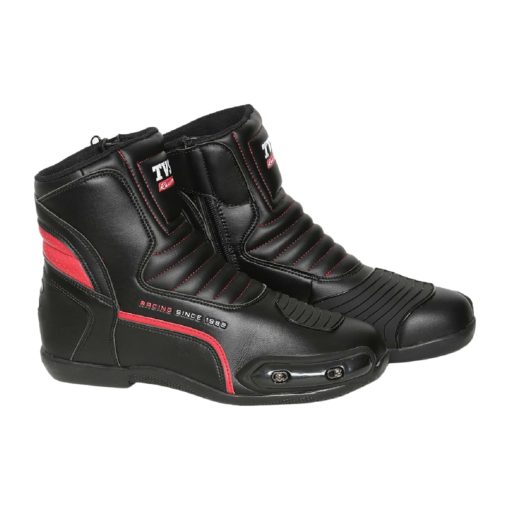 If you are looking for proper riding boots in ankle high , you can check something from TVS that is like a starting range, i.e TVS Racing Black Riding boots. 
And the whole range goes up to Dainese Dyno Pro D1 Black which is the uber premium in ankle high boots. To check the complete range head to the Custom Elements website to check these two products and a wide range in between too.
Next let's get into half length boots. Here too there are types and categories. 
Brands like Tarmac provide adventure boots even in the half length. The structure of these boots is more stiff to prevent much movement while well off roading as you are standing and riding and your leg needs all the support you could get. 
You can get Ladies boots that are more formal looking by Falco called the Dyna 2
If you are more of a comfort Touring person ( someone like me wink) 
There are Falco's Liberty 2.1
These are super comfortable and your long rides can be a breeze.
If you need waterproof one Falco has Atlas 2, ticks the box for almost all weather rides
Again for a complete list check the website. 
Next let's check the Full Length Boots. 
If you are for some serious track day or off-roading Full size is a must. There are no 2 ways beside it. Full length boots protect almost your entire shin. From hard off road boots, to touring ones to rain specific to race boots. The range here can go on. So does the costing. 
Eg: Tarmac Tour Riding Boots are full length comfy touring boots. These boots are excellent at the given price point.
If you want to have one of the best you have the Dainese Centauri Goretex Black Riding boots. Gore Tex is the latest and probably one of the best materials for all weather wear.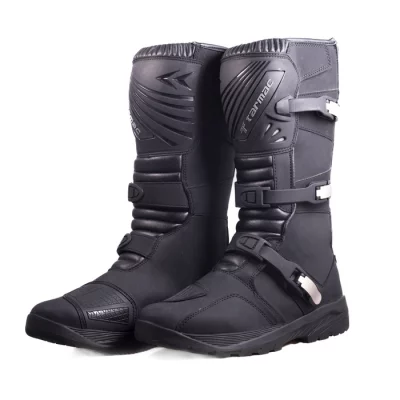 For Adventure also you can start with Tarmac's Adventure Pro Black Riding Boots
To Go premium do check the Falco Avantour 2 
Remember that adventure boots have a much harder structure to provide maximum support to your leg while standing and riding while offroad as the entire centre of gravity is closer to the footpegs. 
Now we finally more onto race boots or track focused boots Again Tarmac providing a good entry level boots with Tarmac Speed Boots
These types of boots have a softer lower section with a hard area near the shin. This is required for the type of crouched down position while on your supersport. 
Dainese provides one of the best with the Torque 3 Out Air 
Hope we have managed to provide a complete list of boots and their types and purpose, If you have any query, getting back to us is just finger bashing away.